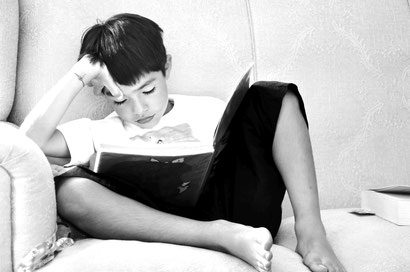 Books - let us count the ways! They're the original screens, offering hours of entertainment for children, who will read a book so many times they'll actually wear them out. And they don't come with the guilt or stress of modern screen time - no monitoring, no passwords , no updates. And of course, we all know that reading is the biggest predictor of success later in life. Finally, they make the best birthday gifts. 
That's why Lifemin has compiled a list of 20 must-have books a child must have in their personal library, according to year group. For more reading inspo for your kids, check out Booktrust. 
Reception
1. Hello Friend by Rebecca Cobb. A young girl conveys her love for sharing everything, including packed lunches, indoor and outdoor play. In contrast, the other main character is a young boy that never shares anything. They develop a heart-warming relationship while showing the reader the importance of caring and sharing.
2. Astro Girl by Ken Wilson-Max. Astrid is a young girl that loves everything to do with space and stars and has ambitions of becoming an astronaut. Her mother, who is an astronaut, is currently on a space mission. While her mother is away, Astrid plays
with different science and space experiments!
3. The Rainbow Fish by Marcus Pfister. The book centres around a rainbow fish with shiny multi-coloured scales. All the other fish want to look like rainbow fish, but rainbow fish won't share his scales. Pfister book educates readers about selfishness and vanity through a using fish.
Year 1
1. Avocado Asks: What Am I? by Momoko Abe. The main character, Avocado is feeling good and confident until a customer in a supermarket asks, 'Is an avocado a fruit or a vegetable?' This funny book explores identity for children in a fun and friendly fashion.
2. Meet the Planets by Carly Hart. Hart takes young readers on a journey exploring the nine planets with fun rhymes and colourful characters. Your children are in for a treat!
3. Mixed by Aree Chung. The primary colours all live in one city but in separate areas, thus never mix. Blue and Yellow eventually fall in love and give birth to Green providing a fun, allegorical story for children.
Year 2
1. Alexander, Who's Not (Do You Hear Me? I Mean It!) Going to Move by Judith Viorst. Young Alexander narrates the story of his apprehension of moving houses and neighbourhoods, leaving his old life behind. A great story for children about getting used to change.
2. The Worries: Sohal Finds a Friend by Jion Sheibani. Sohal is an anxious young man. He's afraid of everything from the dark, to his lack from friends and mutant aliens. His parents try and help but to no avail. He draws some furry friends on a piece of paper and wakes up to find them all sitting on the end of his bed. In a world full of uncertainty, Sohal brings readers funny moments, but also helps teach children to not always be afraid.
3. The Extraordinary Life of Amelia Earhart by Dr Sheila Kanani and Rachel Corcoran. A fun filled children's book teaching young ones about the extraordinary life and times of Amelia Earhart, the great female explorer.
Year 3
1. The Butterfly Lion by Michael Morpurgo. A young boy named Michael runs away from his boarding school and meets an old lady living in a cottage. The lady tells Michael the extraordinary tale of a boy named Bertie who not only fought in wars but also adopts a lion along the way.
2. The Happy Prince and Other Tales by Oscar Wilde. The Happy Prince and Other Tales is a collection of five stories: The Happy Prince, The Nightingale and the Rose, The Selfish Giant, The Devoted Friend, and The Remarkable Rocket. The Happy Prince tells the story of prince statue who persuades a swallow to deliver his gold and jewels to the poor and needy in the city.
3. The Orchard Book of First Greek Myths by Saviour Pirotta. A creatively illustrated and well written anthology of Greek myths starring Odysseus, Pegasus and Perseus, just to name a few.
Year 4
1. A Place Called Perfect by Helen Duggan. The main character, Violet, hates living in Perfect. Why does everyone have to wear special glasses to stop them going blind? What are the strange noises in the night? Then, her Dad disappears, and Violet is determined to uncover the truth with the help of the mysterious boy. But returning normality to Perfect is a battle they never imagined…
2. Women in Science: 50 fearless pioneers who changed the world by Rachel Ignotofsky. Women in Science highlights the contributions of fifty notable women to the STEM fields of science, technology, engineering and mathematics, from both the ancient and modern worlds.
3. Real-life Mysteries by Susan Martineau. From mysteries like Shackleton's ghostly companion to the Loch Ness Monster and friends, read the amazing evidence about these mysterious cases and make up your own mind.
Year 5
1. The Wolf Wilder by Katherine Rundell. Set in deep snowbound Russia, a mother and daughter live in fear of the encroaching red army. But the main character, Fedora, and her mother, can tame wolves into beasts. A great story about fighting for freedom and independence.
2. Hacker by Malorie Blackman. The main character, Vicky, becomes embroiled in an adventure and scandal when her father is accused of stealing a million pounds at bank where he works. Can Vicky prove he is innocent?
3. Holes by Louis Sachar. The character, Staley Yelnats and his family have a long history of bad luck. Stanley gets accused of stealing a famous basketball player's shoes and as punishment, is sent to Camp Greenlake to dig holes all day. While there, he learns more about himself than he could ever have imagined.
Year 6
1. The Boy in the Striped Pyjamas by John Boyne. Set during World War II, Bruno is the eight-year-old son of a commandant at a concentration camp. Bruno strikes up a friendship with a Jewish boy he meets across the fence.
2. Boy: Tales of Childhood by Roald Dahl. Dahls tells the story of his life through the funny and sometimes touching moment of his boarding school days to living in 1930s England.