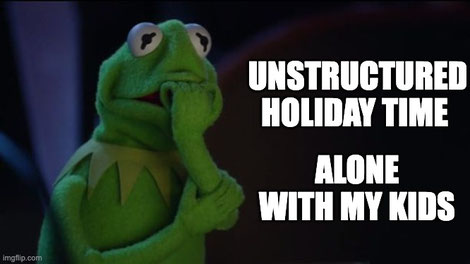 I don't know about you, but Q1/this term has been a real doozy, and I've never looked forward so much to a 3 week school break with - wait for it - NO TRAVEL OR EXTRA CHILDCARE PLANNED.
The last few months brought multiple bouts of illness, both for me and for multiple members of the family, each time bringing interruptions and delays to my standard routine (mostly work).
In addition, I finished a work contract - one that I was thrilled to see the back of - and jumped straight into a new one, which has been an intense scramble. 
A couple of months ago, I'd been looking into options to get away for the yawning break that is the Easter school holiday - 3.54.5 weeks for one of my kids, 2.4 weeks for the other 2 (but who's counting). Flights were super pricey and no amount of Google Flight-ing, Skyscanning or alternative airport and date searching yielded better results. Then I pleaded with my parents to come visit, to no avail.
This is how much I'm programmed to avoid unstructured time with my kids, not to mention the latent pressure to have frequent and fabulous (and expensive!) holidays. 
Eventually I accepted that we'd be doing a staycation, and I also realised that no travel meant no packing and planning and all the stress that comes with that.
And then I embraced it and started looking forward with delight at the prospect of not having to go anywhere or do anything. 
And - get this - for the first time EVER, I actually thought about things that we could do as a family that we would all enjoy, rather than things that would make me feel virtuous as a parent, or that I would enjoy or would benefit me, but that the kids would be insufferable about (eg CAMPS, bike rides, museums, visits to natural or historic attractions). 
Here's what's on the list: Flip Out (which FYI is closing in Wandsworth in June!), a theme or water park (maybe), glamping (kids' request), cinema. And there's provisional agreement to do a few days of camps with some friends, still to be negotiated and finalised...