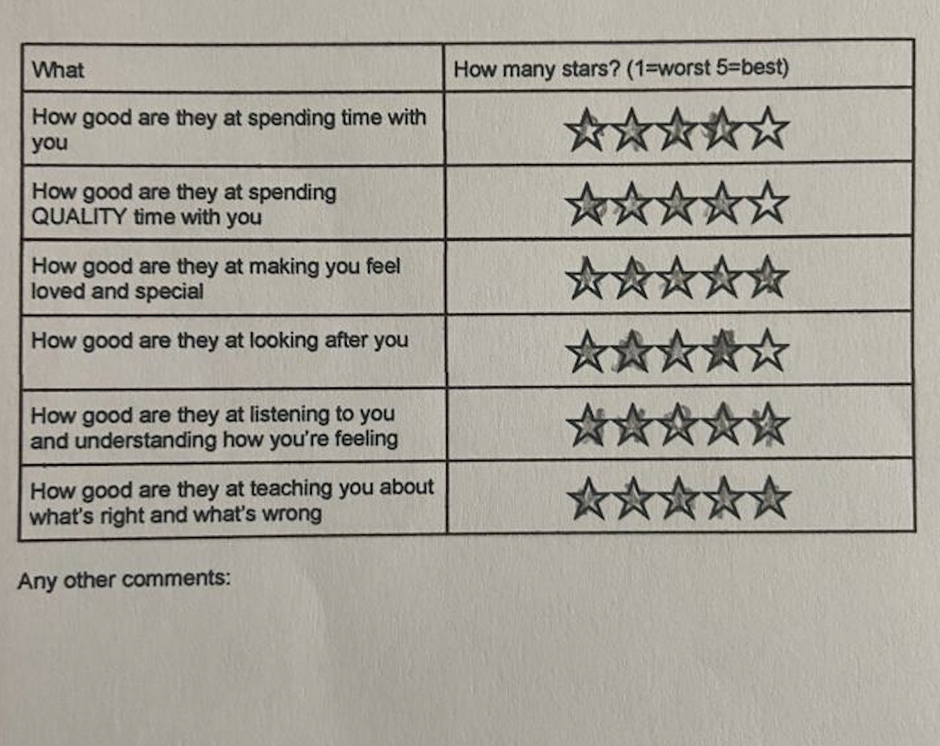 It will come as no surprise to hear that I'm kind of obsessed with the crossover between personal/family life and work life - being a parent isn't so different from running a team (or a small company). 
As parents, we are used to being the ones to provide feedback and guidance to our children. We assess their performance in school, sports, and other activities, and offer advice on how they can improve. But have you ever thought about the idea of having your child do a performance review of you, their parent?
Having recently run a cycle of performance reviews for a company I'm currently working for, they were on my mind, and the idea of getting feedback from my children occurred to me - so I knocked together this review form. 
It was a bit of a throwaway lark, but at the same time I genuinely didn't know what they would say, so in that sense unexpectedly serious and important. 
If you're like me, you worry about how you're doing as a parent. But how often do you actually ask your kids? If you're like me, generally speaking I'm too busy doing *all the things* to take the time to ask (or maybe, afraid of what the answer might be). 
I felt relieved when I got them back and saw scores of around 4/5. (My son gave me a 1/5 the first time around and I was horrified! Turns out I got him at a very bad moment. Also I threatened to take away his screen privileges lol just kidding.) 
My takeaways about performance reviews at work (based on my recent experience, and experience over my career) are (1) that workplaces tend to be terrible about doing them, and they're usually driven by HR rather than managers, who really should be driving them; and (2) that while there aren't perfect, easy or foolproof ways to give or get feedback on how you're doing in your job - whether it's your job as an employee, a manager or a parent - the most important thing about it, when done with genuine intent, is that it shows you care and are open to talking about how things are going.