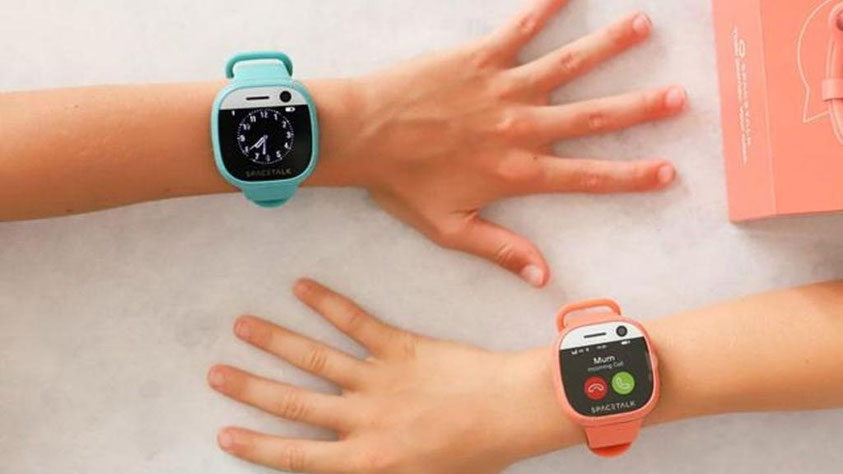 If you're a parent of a tween you're likely familiar with phone watches - a new-ish breed of devices that allow you to track your child and communicate with them by phone and message. 
We initially bought these at the start of the school year so that our year 5-ers would be able to go to and come home from school and around the neighbourhood unaccompanied. 
They really are magnificent little devices, and I immediately wished we'd started our older son on one, rather than a phone and all the complications that come with those. (And I wished that I could swap my own phone for one too.) 
As I've previously mentioned, I'm a big second hand purchaser - for both environmental and bargain-hunting reasons. So of course I looked on eBay, after having researched which ones were the best to buy, and ended up buying two used Spacetalk devices for £30 each. And they were great. With one of them I had a bit of an issue with connectivity, and I did have to spend a bit of time at Three getting SIM cards for them, but generally all fine. 
Until one of the watches forgot to be removed for a swim lesson, and another watch was mysteriously lost on the walk home from school (very soon after my daughter had started complaining that she thought it was ugly). 
Back to eBay for replacements. However this time they weren't as readily available. I did manage to get one on eBay - this time, instead of a Spacetalk, a black Moochies watch, which was the only one aesthetically approved by my daughter and also functionally approved by my research. 
The other one I got on Vinted, an eBay alternative that I had started occasionally using for kids clothes on the recommendation of a friend. I found a used Spacetalk there and bought it for £50.
And then the Neverending Used Phone Watch Nightmare started which I estimate to have taken up at least 20 hours of my time over the course of the past two months.
First up - Moochies watch. I received my eBay purchase and was surprised to learn, after some research, that it's not possible to use a used Moochies watch 'out of the (already opened) box'. I had to contact Moochies and was told I would have to send it back to them to replace the SIM in the watch. Which I did, and I received the updated device and then did the things I was meant to do to be able to use the watch - download and set up the app, activate the SIM, pair the watch. Didn't work. 20 emails with customer service later (can't talk to them by phone!), still didn't work. So they sent me a new watch. Again, set up the app, activate the SIM (after cancelling the first one), pair the watch. Didn't work again. 20 further emails with customer service later (some of which included the words 'I'm going to lose my mind'), I managed to get the phone functionality to work. The messaging and video calling still doesn't work and that is under investigation with their technical team. And more recently, the charger has stopped working. 
Conclusion: total technical nightmare (which is ongoing) and very frustrating not being able to speak to someone, though I commend Moochies for replacing the watch and at least giving the impression of trying.
Next up: the Spacetalk from Vinted
I received the 'VeryGood' condition Spacetalk watch and set it aside because I had to get a replacement SIM, as the last one had died a death in the pool. Replacement SIM in hand (another couple of visits to Three because they inexplicably require photo ID for certain transactions), I put it in the watch and all was well - until I realised that it wasn't reliably charging. After testing the chargers and cables I realised that the problem was that the surface of the back of the watch and the charging pad weren't making sufficient contact, because of a previously unnoticed crack on the back of the watch (which wasn't photographed or mentioned in the listing, of course).
I managed to solve this by putting an elastic band around the watch while it's charging, but I also took it up with Vinted. I let them as well as the seller I bought it from know that there was a problem with the watch. The seller didn't respond at all, and Vinted repeatedly said 'Not our problem.' You see, the way it works on Vinted is that once you receive the item, you have 2 days to say if there are any issues. After that, you have no recourse. This is despite consumer and trading laws in this country saying otherwise.
Since I am a consumer rights warrior, I have filed a claim with Her Majesty's Court against Vinted Limited because the seller's listing was deceitful. (And by the way just a couple of days ago the entire back of the watch fell off because not only was it cracked, it turns out that the previous seller had glued it back on where it had previously broken off, so it's now entirely unusable). 
Conclusion: Spacetalk good, Vinted ABSOLUTELY TERRIBLE and to be avoided. 
And by the way I also requested a refund from eBay for the Moochies watch since it hadn't been mentioned all the trouble that would be involved in using the watch. The seller balked (they were apparently annoyed with Moochies because they were still being charged fheor monthly subscription), but I ultimately got my money back. 
Conclusion: eBay good (though of course never risk free)
As you can see, this took up wads of time I really don't have to spare right now. But I'm still committed to buying things second hand, and I will ALWAYS be committed to fighting for my consumer rights (I wrote my first complaint letter, which my mom still talks about, at the age of 13).
And my sense is that because phone watches are fairly new inventions, they'll become more reliable and easy to use, and to re-use. Or at least that's my hope because I do still think they're a pretty genius alternative to smartphones.